When Kevin Hart and Dwayne Johnson get together you can usually expect two things –– plenty of friendly insults between the two and some candid moments.
Such was the case when Johnson guested on Hart's Peacock show 'Hart to Heart', in which he has invited various people on to talk about their careers, their ambitions and more.
And in between the various funny jabs at each other, there was a chance for Johnson to open up about his disappointment around the character of Black Adam at DC.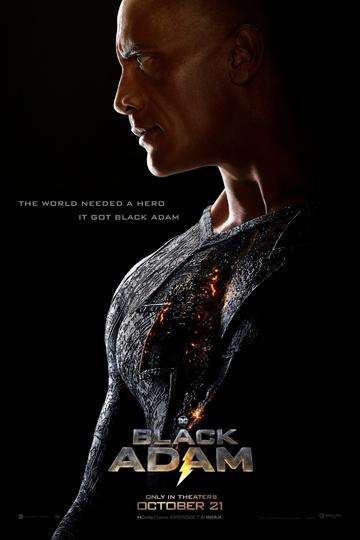 "The world needed a hero. It got Black Adam."
72
PG-132 hr 5 minOct 21st, 2022
What happened with 'Black Adam'?
The character, who was created for DC Comics as an antagonist for Shazam, has evolved since then on the page to become something of an antihero in his own right.
Cinematically, the plan had been for Adam to serve as a nemesis for Shazam (played on screen by Zachary Levi in twomovies so far), but when Johnson became involved in 2014, he urged producers to take it in a different direction.
A movie based solely around Black Adam went into development but took years to come to fruition. And when it did, it arrived in a vortex of post-Covid box office issues and changing regimes at DC.
The movie opened to $67 million, the biggest launch for a Johnson solo movie (we're not counting the 'Fast & Furious' movies he has appeared in) but couldn't weather the current moviegoing climate and ended up topping out at $393.2 million worldwide –– a disappointment for a film that cost at least around $200 million to make, more to market and had been viewed as a franchise starter.
Johnson had intended to see the character build to a confrontation with Henry Cavill's Superman, going to far as to have him cameo in a post-credits sting. But given the new broom approach taken by incoming DC Studios bosses James Gunn and Peter Safran, that isn't in the cards right now.
Johnson posted about his disappointment on Twitter in December:
What did Dwayne Johnson say about 'Black Adam'?
Talking with Hart, Johnson mentioned the shift in studio leadership that had torpedoed 'Adam's' future:
"'Black Adam' got caught in a vortex of new leadership. It was so many changes in leadership. Anytime you have a company, a publicly traded company, and you have all those changes in leadership, you have people coming in who, creatively and fiscally, are going to make decisions that you may not agree with. It was like new ownership coming in and buying an NFL team and going, 'Not my coach, not my quarterback.' It doesn't matter how many times you won the Super Bowl or how many rings you got; you're going with somebody else."
And despite its seeming failure at the box office, the star defended the movie:
"That will always be one of the biggest mysteries. You have the biggest opening of your career. Sure, no China, which could've been maybe 100 or 200 million more dollars. You have a superhero, and you want to grow out the franchise. You bring back Superman and Henry Cavill, which the world went crazy. And we created a diverse superhero portfolio, where we have just men and women of color in 'Black Adam.'"
You can see the whole segment of 'Hart to Heart' about 'Black Adam' below.
Other Movies Similar to 'Black Adam:'
Content Source: www.moviefone.com