Opening in limited release in theaters on August 11th and wide on August 25th, 'Gran Turismo' is the latest attempt to bring a video game –– sorry, driving simulator as the movie's characters are at pains to remind us –– to screens. And it's a mostly successful effort, partly because it has a compelling true story/underdog tale to tell rather than trying to force a narrative onto a title that doesn't have one.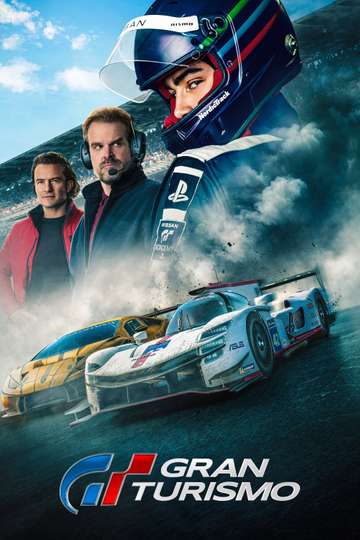 "From gamer to racer."
Gran Turismo is based on the unbelievable true story of a team of unlikely underdogs – a struggling working-class gamer (Archie Madekwe), a failed former racecar… Read the Plot
What's the story of 'Gran Turismo'?
The movie follows Jann Mardenborough (Archie Madekwe), a gamer living in the UK who is obsessed with the PlayStation-based driving simulation 'Gran Turismo'. He's become a highly proficient driver, rising up the ranks of top players and saving money to buy new gaming equipment even as his parents –– particularly former professional footballer Steve (Djimon Hounsou) –– don't understand his ambitions.
Jann's life changes forever when he wins an invite-only GT race, gaining him entry to an exclusive academy set up primarily as a marketing deal between Nissan (driven by ambitious PR executive Danny Moore, played by Orlando Bloom) and Sony. Whoever succeeds at the academy will score a contract –– subject to also securing a racing license by finishing at least fourth in one race –– to drive in Nissan's professional team for races in Europe and the United Arab Emirates.
After making it through as the champ, Jann faces the toughest test of his life… since racing with trained drivers who have been behind the wheel of real vehicles for years is no mean feat. And he faces snobbish backlash from both pit crews and the drivers he's competing against. Aided by former driver-turned-mentor Jack Salter (David Harbour), Jann will have to prove he has what it takes on actual tracks such as the legendary Le Mans in France.
Who else is in 'Gran Turismo?'
'Gran Turismo's cast also includes Geri Horner, Darren Barnet, Takehiro Hira, Joshua Stradowski, Daniel Puig, Maeve Courtier-Lilley, Pepe Barroso, Thomas Kretschmann and Lindsay Pattison.
Does 'Gran Turismo' make the winners' circle?
In a world where video game adaptations have finally started to see real success (e.g., 'The Super Mario Bros. Movie' and 'Mortal Kombat'), the pressure is on for new titles to stand out. 'Gran Turismo', which has been in development for years (at one point, 'Top Gun: Maverick's Joseph Kosinski was in the directing driver's seat), has an advantage thanks to its hooky roots in Mardenborough's real-life story, which means it doesn't have to go the 'Need for Speed' route and try to layer a fictional idea over a game that doesn't have a narrative.
The result is much more effective than that benighted 2014 movie, though it still suffers from a few issues.
Neill Blomkamp was an interesting choice to direct: he's more known for the sci-fi likes of 'District 9', 'Elysium' and 'Chappie' and more recently took a side-step into shorts and horror. He certainly has a grasp on how to meld the effects with real-world footage seamlessly, aside from the moments where he actually wants to call attention to them (such as Jann's car breaking apart to put him back in his bedroom before reforming all in one shot to show him channeling his virtual racing experience in a key moment during an actual event), and he knows how to shoot a kinetic racing scene.
Madekwe, previously seen in movies such as 'Midsommar and 'Voyagers' does a decent job of bringing Jann to life, the script from 'American Sniper's Jason Hall and 'King Richard's Zach Baylin, portraying him as quietly confident but never overly cocky (there's a stock American fellow driver for that purpose). He's believably a young man still looking for his place in the world when he discovers this extension to his obsessions.
Yet the person truly deserving of a place on the acting podium is David Harbour, who has spent years perfecting the grumpy veteran dealing with a bunch of younger people on 'Stranger Things'. His Jack is a highlight of the movie, a former racer himself tinged with tragedy who is grimly unconvinced that any of these "sim" kids can cut it in an actual car before Jann proves he has real potential, and a bond begins to form. Harbour is also the anchor for an amusing montage where Jack washes out one simulator candidate after another.
Oh, and this is likely to be the only video game/sports movie where the hero chills out to Enya and Kenny G.
Where does the movie lose traction?
Which isn't to say 'Gran Turismo' is totally free of issues. Despite the pacey racing scenes, no amount of sweeping drone/helicopter shots and camera positions near wheels can help the fact that an awful lot of what happens on the track is repetitive. There are several moments where Jann is trying to get past his competition, only for them to swerve to block him. It makes for less excitement more checking of the watch as you wonder if there is ever going to be anything else happening.
And even when Jann suffers an accident that shakes him to the core, the fallout seems less than realistic, him refusing to see his mother and father when you know any real parent would have rushed to the young person's side, no matter their feelings.
In fact, emotion is a big issue for a film as a whole, coldly bringing the story to life with little in the way of heartfelt human reactions. Again, only Madekwe and Harbour moving the needle in any real direction on that front.
And while the cars are running on gas, the film's plot –– real as it might be –– is solely powered by cliches. There are the family misunderstandings, the wilder sportier brother (played by Daniel Puig, who ironically looks more like the real-life Mardenborough), the rivalry on the track and the snobbish professionals, one of whom drives a gold car. There's also an entirely unnecessary subplot about Jann's flirtation/relationship with a girl from his hometown who he follows on Instagram that adds nothing to the story and could have been excised, shortening the bloated 2hr and 15-minute running time.
Yet 'Gran Turismo', while it might not be in pole position, has enough entertainment value and certainly skirts around some of the bigger potholes of game adaptations past.
'Gran Turismo' receives 7.5 out of 10 stars.
Other Movies Similar to 'Gran Turismo:'
'Gran Turismo' is produced by PlayStation Productions, 2.0 Entertainment, and Columbia Pictures. The movie is scheduled to release in theaters on August 11th, 2023.
Content Source: www.moviefone.com