Opening in theaters on August 4th, 'Meg 2: The Trench' largely sticks to the giant monster movie franchise playbook –– which is to say, if your hero faces down one big beast in the original, they have to be confronted by more in the sequel.
And while this example is a largely brain-free, silly summer blockbuster experience, it does offer enough thrills and spills that you won't feel cheated come the end.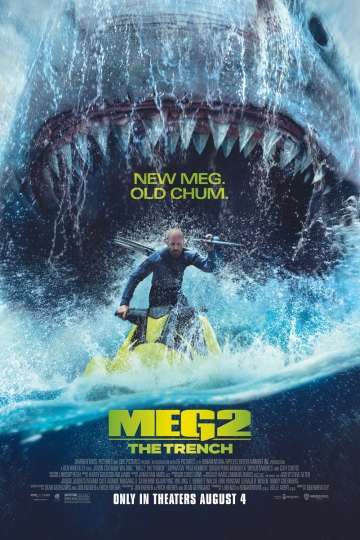 "Back for seconds."
73
PG-131 hr 56 minAug 4th, 2023
An exploratory dive into the deepest depths of the ocean of a daring research team spirals into chaos when a malevolent mining operation threatens their mission… Read the Plot
What's the story of 'Meg 2: The Trench'?
Jason Statham returns as diving expert Jonas Taylor who, along with Jiuming Zhang (Wu Jing) leads a daring research team on an exploratory dive into the deepest depths of the ocean.
Their voyage spirals into chaos when a malevolent mining operation threatens their mission and forces them into a high-stakes battle for survival –– because their enemies are not just from the natural world this time.
Pitted against colossal Megs and relentless environmental plunderers, our heroes must outrun, outsmart, and outswim their merciless predators in a race against time.
Who else is in 'Meg 2: The Trench'?
The cast also includes Cliff Curtis, Sophia Cai, Page Kennedy (all returning from the first movie), Sergio Peris-Mencheta, Skyler Samuels and Sienna Guillory.
What swims about 'Meg 2: The Trench'?
With this second movie, 'The Meg' films confirm themselves as Jason Statham's 'Fast & Furious' (yes, we know he's popped up in a few of them and co-starred in spin-off 'Hobbs & Shaw'). By that, we mean a franchise that treats the laws of physics (and here, nature) like something to be ignored in the name of spectacle and a story that almost everyone else is treating with the tongue-in-cheek style something such as this suggests while the leading man barrels his way through more seriously.
To give Statham some credit, though, even he indulges in how goofy all of this is occasionally, showing more self-awareness than Vin Diesel ever does in the 'Fast' movies. His Jonas Taylor embraces more of the team effort this time, joking around with Cliff Curtis' Mac and Sophia Cai's Meiying. Jing Wu, meanwhile, fits right in with the gang, bringing his own action chops to the role (at one point, having cameras strapped to his body during one particularly tricky, explosive sequence).
While director Ben Wheatley might seem like an odd choice to direct a movie of this style and scale –– after all, he's been best known for small-scale British horrors such as 'Kills List', 'A Field in England' and 'In the Earth', though he has shown plenty of versatility in his genre-hopping to date between the satirical likes of 'High Rise' and the dramatic trappings of 'Rebecca'. Here, he brings some level of subversion (alongside submersibles) to a loud, wacky action summer wannabe blockbuster.
Alongside writers Jon Hoeber, Erich Hoeber and Dean Georgaris, he has plenty of fun dreaming up scenarios to put people at risk from the giant sharks, and even (as seen in one of the movie's trailers) kicks things off by winding the clock back to the Cretaceous period to show a Meg proving to be the alpha predator even in a world where dinosaurs ruled the Earth. Perhaps a sly wink at 'Jurassic Park' and its own 'Jurassic World' sequel trilogy, the most recent of which had its own nod towards prehistory.
Plus, if you were coming to this for big beasties, the team behind 'Meg 2' certainly wants you to go home satisfied, throwing in multiple Megalodons (including one that Jing Wu's character believes he has tamed after finding it injured as a pup) plus some prehistoric reptilians and a massive cephalopod, all fellow inhabitants of the dark waters of the trench who make it to the surface world through reasons that, let's be honest really don't matter.
Does the movie sink at all?
Naturally, Wheatley can only do so much when it comes to a big studio title such as this, which has an established format and runs on rails much like a theme park ride. Statham's Taylor is very much your stock, occasionally quippy hero type (after dispatching on particularly resistant baddie, he says, "so long, chum", which would make even James Bond wince) while everyone else is either in the friend group, and therefore are granted enough personality to make it out alive, or shark bait.
The twists and turns are visible from roughly six miles away (and the villainous characters, with one exception, are pantomime baddies) and there are some logic gaps in the story big enough for a giant, toothy predator to swim through. This is also strictly on the same lines as the original when it comes to the kills: PG-13, which means while Wheatley and the writers have a few inventive moments, it's an almost entirely bloodless affair where the massive monsters swallow people rather than biting them, and the smaller ones rarely get to do much more than chomp once.
Also, while the trailers have been full of the sharks let loose at an island resort, that is mostly relegated to the final act, the proceeding running time given over to a tense sequence in the trench where our heroes are fighting for their lives against more than just the toothy terrors. It's perfectly serviceable but never as pleasurable as the full-on Megalodon chaos.
Most disappointingly for a film that wants to be a big-budget version of those Megashark Vs. Giant Dolphin-style movies (think 'Sharknado' with 'Godzilla' production values), some of the visuals are shockingly basic, a few of the effects less convincing than one of those cheapo cash-in films and the whole thing coming across as rushed and re-shot. It's also one of those movies that smacks of elements being inserted so that it'll play well in China –– not a negative per se, but it's so blindingly obvious at times as to be annoying.
Still, if you enjoyed the first 'Meg' back in 2018 and you were hoping that the sequel would offer more of the same, just bigger, louder and with even less of a brain, 'Meg 2: The Trench' certainly delivers on that front. And if you're willing to put up with the more ridiculous elements, it's worth the dive, even if it isn't a deep one despite the title.
'Meg 2: The Trench' receives 7 out of 10 stars.
Other Movies Similar to 'Meg 2: The Trench':
'Meg 2: The Trench' is produced by Apelles Entertainment, Warner Bros. Pictures, di Bonaventura Pictures, and CMC Pictures. It is scheduled to release in theaters on August 4th, 2023.
Content Source: www.moviefone.com