Opening in theaters on August 4th, 'Shortcomings,' directed by Randall Park, reaches for authenticity in the way its characters' foibles are portrayed, but ultimately falls short itself with a blandly solipsistic, mopey main character and side stories that feel like they'd be much more interesting as the central narrative.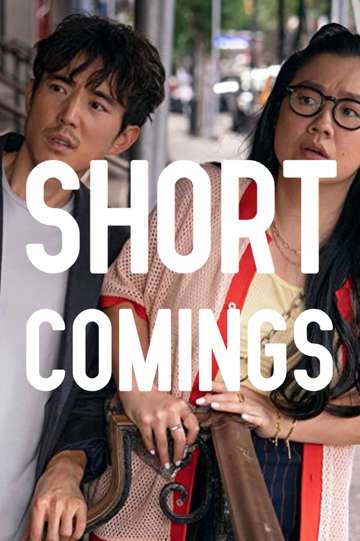 1 hr 32 min
Jan 22nd, 2023
Ben Tanaka is a movie-theater owner who is grappling with the implications of race and culture on the dating scene. Ben lives with his girlfriend, Miko Hayashi,… Read the Plot
What's the story of 'Shortcomings'?
This is essentially the story of Ben (Justin H. Min), a struggling filmmaker, who lives in Berkeley, California, with his girlfriend, Miko (Ally Maki), who works for a local Asian American film festival.
When he's not managing a struggling arthouse movie theater as his day job, Ben spends his time obsessing over unavailable blonde women, watching Criterion Collection DVDs, and eating in diners with his best friend Alice (Sherry Cola), a queer grad student with a serial dating habit.
When Miko moves to New York for an internship, Ben is left to his own devices, and begins to explore what he thinks he might want –– mostly relationships with other women in his orbit. Alice, meanwhile, ends up moving to New York herself after an incident at school.
Who else is in 'Shortcomings'?
The cast also includes Tavi Gevinson, Debby Ryan, Sonoya Mizuno, Timothy Simons, Jacob Batalon, Theo Iyer and Scott Seiss.
What works about 'Shortcomings'
Randall Park has been a reliable performer for years, someone who has long proved he has what it takes in front of the camera. Switching effortlessly between leading roles in the likes of TV's 'Fresh Off the Boat' or the Netflix romantic comedy drama movie 'Always Be My Maybe' and character pieces such as roles on 'The Office' and in the Marvel Cinematic Universe (where he's more normally found in the 'Ant-Man' films as enthusiastic FBI agent Jimmy Woo, Park has developed a recognizable comic style and a following enough to give him a shot at directing.
'Shortcomings' is his first step behind the camera (though he has a production company and backs projects he sometimes appears in) and, as director, he proves to have a handle on at least what makes characters tick.
Adapting –– with a script from the writer himself –– Adrian Tomine's graphic novel, Park sets his story among the arty hipsters of Berkely and Oakland, the Bay Area vibe effectively created on screen here.
And kicking off with a spoof scene of 'Crazy Rich Asians' (starring Oscar nominee Stephanie Hsu and Ronny Chieng), he and Tomine quickly set out their stall, looking to explore the sort of romantic entanglements that usually come with white faces attached. It might not be always subtle, but that at least works –– we see Ben struggle with others judging him for dating white girl Sasha (Ryan) and helping Alice by pretending to be her boyfriend so she can avoid the usual interrogation at a family wedding (even if they have to hide Ben's Japanese heritage from her parents, though even that would be preferable to them finding out she's queer).
Park nudges his characters through their various storylines, anchored by Ben's malaise and Alice's struggle to find herself. But there is a problem, and it's largely Ben.
What are the movie's problems?
The biggest issue with the movie is its central character. All plaudits for breaking away from the "model minority' image of quietly well-behaved Asian-Americans. Ben is certainly flawed and human but despite the best efforts of Min to bring him to life, he comes across as a whining, self-centered moron that no woman would want to get near, let alone the parade of attractive people who deign date him.
It gets to the point where you're desperate for the movie to pivot away from Ben's story and go and explore Alice's life more deeply or even Gene (Batalon) and Lamont (Seiss), the two goofballs who work the concession stand at the cinema Ben manages. These two characters, who feel like they walked out of a Kevin Smith movie (and you can sense the New Jersey filmmaker's influence all over 'Shortcomings') make for more entertaining company in a couple of minutes than almost all of Ben's scenes. Even if they do represent a little more self-indulgence from Park and Tomine –– they refer to Marvel movies and Batalon, a co-star in the most recent 'Spider-Man' trilogy of films, name-drops the character at one point.
Full marks to the director and writer for trying to make the character feel authentically human instead of a stereotype, but the dial has been turned too far towards frustrating. And with Ben as the focal point of the movie, it makes for a more uncomfortable experience than anything approaching entertainment. Yes, he's supposed to be annoying, but there's zero growth and little evidence until right at the end that that's even possible. Meanwhile, people around him are living much more interesting lives, even cinema employee Autumn, with whom Ben has a brief, unsuccessful dalliance. Subverting the manic pixie dream girl cliché, she's a punk anarchist performance artist whose current work in progress is taking a picture of her urine-filled toilet every morning.
'Shortcomings' has enough to recommend it, even if you do find the main character to be a repetitive, time-wasting bore. There's fun to be had exploring the world that these people live in, and the challenges they face when romantic issues and cultural boundaries clash. It's just unfortunate that it doesn't look more deeply into such ideas, choosing instead to indulge the central figure's dull quest for the perfect relationship or his opinions on essentially anything.
As a debut, it's still an impressive one and if Park finds a subject he can bring to life without the frustrations of the human black hole at the center of this one, he'll have something to truly enjoy. 'Shortcomings' might have a few of its own, but it also shows solid potential.
'Shortcomings' receives 6.5 out of 10 stars.
Other Movies Similar to 'Shortcomings':
'Shortcomings' is produced by Topic Studios, Tango Entertainment, Roadside Attractions, Picture Films, and Imminent Collision. It is set to release in theaters on August 4th, 2023.
Content Source: www.moviefone.com