A lifelong Long Island resident is down on her luck when she comes across an intriguing job listing on Craigslist: a wealthy family looking for someone to enter a "romantic relationship" with their 19-year-old son before he leaves for college. Hilarity ensues when the pair first meet, as Percy mistakenly accuses Maddie of trying to kidnap him in Sony Pictures' 'No Hard Feelings.'
The raunchy R-rated comedy has all the classic premise of an early 2000s romcom with added modern and updated elements. The refreshing take on this story satisfied audiences looking for a fun time in theaters and resulted in box office success, earning over $50.4 million domestically and over $86.3 million worldwide – which is quite impressive for an R-rated comedy.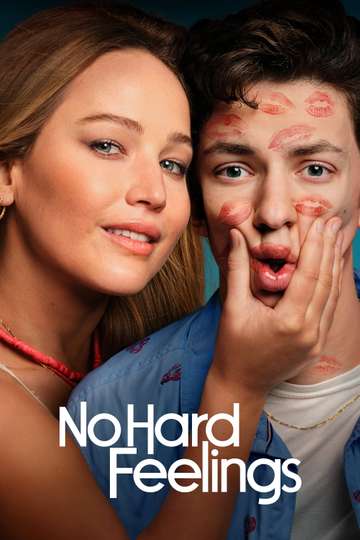 Although the film includes crass sexual innuendos and hilarious physical comedy, there is a ton of emotion and sweetness at the center of it all due to Jennifer Lawrence's emotional and committed performance.
The official synopsis for 'No Hard Feeling' is below:
"On the brink of losing her childhood home, Maddie (Jennifer Lawrence) discovers an intriguing job listing: wealthy helicopter parents looking for someone to "date" their introverted 19-year-old son, Percy, before he leaves for college. To her surprise, Maddie soon discovers the awkward Percy is no sure thing.".
Who Is In The Cast of 'No Hard Feelings'?
'No Hard Feelings' is directed by Gene Stupnitsky ('Good Boys').
Are Raunchy Comedies Making A Comeback?
Along with 'No Hard Feelings,' other raunchy and R-rated comedies such as Adele Lim's 'Joy Ride' and Elizabeth Bank's 'Cocaine Bear' – which has crossed over $87.6 million worldwide – have been a hit with the audience. The financial success of 'No Hard Feelings' goes to show that there's definitely a desire to see this genre.
Jennifer Lawrence's performance is the driving force behind this movie – underneath all the crass jokes lays a damaged soul with a complicated past. Once the softer side of Maddie is revealed, she becomes relatable, and the film takes an unexpected emotional turn.
The movie is co-written by Gene Stupnitsky and John Phillips and was based on a real-life Craigslist ad, though the rest of the story is fictional.
When Will 'No Hard Feelings' Come To Streaming?
The R-rated comedy opened in theaters domestically on June 16, 2023, and is still playing in some theaters, so be sure to check your local listings and ECinema News below for showtimes in your area.
The movie is now available on VOD. Platforms such as Prime Video, Apple TV, Google Play, Vudu, and YouTube have the title available for purchase for $19.99. The title is not available to rent digitally at this time.
'No Hard Feelings' has a total runtime of 1 hour and 44 minutes. If you missed the film in theaters, now is your chance to see it from the comfort of your home.
Watch the official trailers for 'No Hard Feelings' below:
For those who prefer physical media, 'No Hard Feelings' will be available on DVD and Blu-Ray on August 29 at retailers such as Amazon, Best Buy, and Target.
Now that the film's theatrical release window is coming to a close, it should be making its way to streaming. The studio behind 'No Hard Feelings' is Sony Pictures, which does not have its own streaming platform. However, Sony does have a contract with Netflix that will most likely guarantee the movie to land on the popular streamer as early as late September or early October.
Other Movies Similar to 'No Hard Feelings:'
To watch our exclusive interview with Andrew Barth Feldman about 'No Hard Feelings,' please click on the video player below.
Content Source: www.moviefone.com