Opening in theaters on July 21st is the new biopic 'Oppenheimer,' which chronicles the life and career of the "Father of the Atomic Bomb" J. Robert Oppenheimer and was directed by acclaimed filmmaker Christopher Nolan ('Tenet,' 'Dunkirk,' 'The Dark Knight').
What is the plot of 'Oppenheimer'?
'Oppenheimer' tells the story of J. Robert Oppenheimer's role in the development of the atomic bomb during World War II.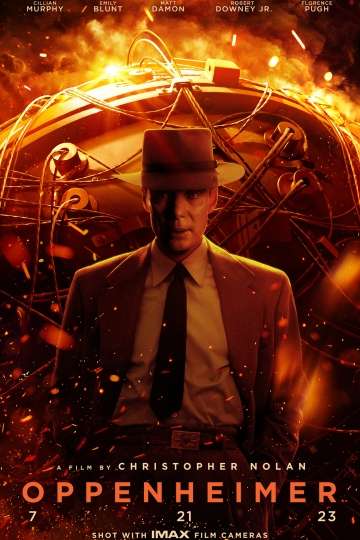 "The world forever changes."
86
R3 hr 1 minJul 21st, 2023
The story of J. Robert Oppenheimer's role in the development of the atomic bomb during World War II. Read the Plot
Who is in the cast of 'Oppenheimer'?
Initial Thoughts
Christopher Nolan has crafted another masterpiece with an epic historical biopic that is as captivating as it is compelling. What begins as a character study eventually unfolds into an intriguing political mystery with unexpected twists and turns. Cillian Murphy gives the performance of his career as the conflicted and complicated J. Robert Oppenheimer, while Robert Downey Jr. also gives one of his finest performances to date as Lewis Strauss, Oppenheimer's eventual adversary.
Story and Direction
The three-hour long movie tells the story of J. Robert Oppenheimer from his early years studying physics in Germany, to eventually being recruited by the U.S. government to work on the Manhattan Project and the aftermath of the creation of the Atomic bomb. The story is mostly told in flashbacks from both Oppenheimer and Lewis Strauss' points of views. Oppenheimer is defending his actions following WWII in a secret government meeting, while Strauss is addressing a Senate committee as he has been appointed to a cabinet position. We see the events as they unfold as memories for both characters, with Strauss' in black and white, and Oppenheimer's depicted in color, which also represents the characters personalities as Strauss sees the world in black and white while Oppenheimer sees bright colors.
Christopher Nolan is unarguably one of the most celebrated filmmakers of his generation and is known for making twisty movies like 'Memento' and 'Inception,' as well as historical documents like 'Dunkirk,' but 'Oppenheimer' excels because it does both at the same time and embraces everything Nolan does well. Nolan's script is smart, cutting back and forth between both Oppenheimer and Strauss' hearings and their individual flashbacks, and using that to frame the story of creating the Atom bomb. But the movie is also a political thriller, and has a 'Usual Suspects' level twist towards the end that you won't see coming.
Nolan sets an epic tone for the film, which is grand in scope and design, and he gets the very best out of his ensemble cast. Nolan's use of cutaways to visual effects of atoms, molecules, fire and stars representing thoughts running through Oppenheimer's head were interesting but thankfully used sparingly. While the film is long at just about three-hours, it goes fast and Nolan uses the most of his time setting the stakes for the drama and allowing his cast room to breathe. The movie also looks gorgeous, thanks to Nolan and the work of cinematographer Hoyte van Hoytema.
Cillian Murphy as J. Robert Oppenheimer
Cillian Murphy is best known for playing the Scarecrow in Nolan's 'Dark Knight' movies and hasn't really had the chance to show off his talents until now. As the title character Murphy delivers a strong and layered performance with authority that gives the movie a feeling of importance and urgency. Oppenheimer is driven, egotistical, brilliant, self-absorbed and conflicted, and Murphy conveys all of this with very little effort, giving a seamless performance. This is definitely the actors best work, and I would be surprised if he doesn't get a lot of attention come awards season.
Robert Downey Jr.'s Performance
Robert Downey Jr. is one of the most popular actors of his generation, but after a decade of playing Iron Man, it's easy to forget just how good a dramatic actor he is and this movie helps remind us of that. Despite the title, 'Oppenheimer' is almost as much Downey's movie as it is Murphy's, and the actor completely holds his own narrative well. While the two actors share few scenes together and Downey's role is supporting, his character is pivotal to the story and the true antagonist of the film. In a career as impressive as Downey's, it's hard to say this is his best performance, but it's certainly on the short list, and I'm starting the campaign now for Downey to get nominated for an Oscar for Best Supporting Actor.
Supporting Cast
Nolan has always assembled incredible casts of actors for his projects, but the abundance of riches here is a bit embarrassing. The movie stars a who's who of talented actors, and I of course can't mention all of them, but I will say Matt Damon stands out. Damon plays Leslie Groves, the General that recruited Oppenheimer. The actor plays the role with a bit of his signature charm, which fits the otherwise serious military figure well. Damon also has good chemistry with Murphy, and the two characters forge a nice friendship together.
Surprisingly, Josh Hartnett, who's been away from the big screen for some time makes a fantastic comeback as Ernest Lawrence, one of Oppenheimer's colleagues. Hartnett gives a really strong performance opposite Murphy and is a wonderful addition to the cast. Benny Safdie and David Krumholtz also play colleagues of Oppenheimer and both actors bring a lot to their characters as well.
Florence Pugh also stands out and gives a very daring performance as Jean Tatlock, Oppenheimer's first love. Pugh's character is sweet and vulnerable, and you understand why he falls in love with her in the first place. But their story is also tragic, and Pugh's tender performance gives her character a real voice in the movie.
Unfortunately, Emily Blunt's performance as Oppenheimer's wife, Kitty, did not work for me. The character was not as well-defined in the script as Jean, and while Blunt is a great actress and did her best in the role, her performance falls flat with her limited screen time. The chemistry between Oppenheimer and Kitty never quite works, especially in comparison to his relationship with Jean, but perhaps that was the point.
Oscar Hopes
I would imagine that this film will be nominated for Best Picture at the Oscars next year. I'd be surprised if Nolan doesn't get nominated as well for both Best Director and Best Adapted Screenplay. Depending on how the rest of the year shapes up, he'll probably walk away with at least one of those awards. Nolan's been nominated five times before and never won, and right now, this seems like the movie and the year where he might actually win.
I think Cillian Murphy has a great chance of being nominated for Best Actor, and certainly deserves it, but I'm really hoping that Robert Downey Jr. is rewarded for his incredible performance here, as well as his overall body of work. Florence Pugh also has a chance at a Best Supporting Actress nomination, but that will really rely on who the rest of the competition will be. I would also imagine the film will receive several technical nominations as well as cinematography for Hoyte van Hoytema.
Final Thoughts
In the end, 'Oppenheimer' is another Christopher Nolan masterpiece. A movie that works both as a compelling historical biopic, and an intriguing political thriller with brilliant performances from Cillian Murphy and Robert Downey Jr.
'Oppenheimer' received 9.5 out of 10 stars
Other Christopher Nolan Movies:
'Oppenheimer' is produced by Syncopy, Universal Pictures, and Atlas Entertainment. It is set to release in theaters on July 21st.
Content Source: www.moviefone.com