'Aquaman and the Lost Kingdom' already had some pressure attached to it. As the sequel to 2018's 'Aquaman' it had to live up to an original movie that earned more than $1.1 billion.
Which for someone like director James Wan, who is also responsible for giant horror franchises such as the 'Saw' films and particularly the 'Conjuring' franchise, might not be quite as daunting as for others.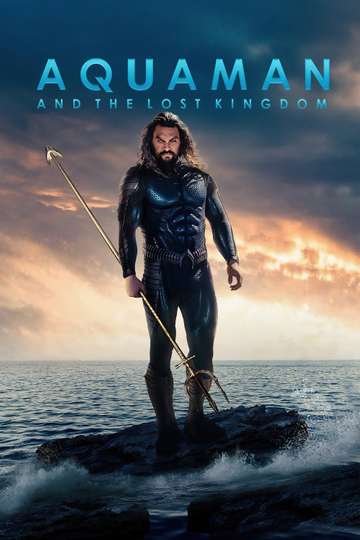 When an ancient power is unleashed, Aquaman must forge an uneasy alliance with an unlikely ally to protect Atlantis, and the world, from irreversible devastation. Read the Plot
But there were lots of other factors in play around the new movie –– it was greenlit by a former Warner Bros./DC regime (to be specific, Toby Emmerich and Walter Hamada) back when the DC Extended Universe originated by movies such as 'Man of Steel' and 'Justice League' was still a going concern and Aquaman, played by Jason Momoa was one of its big breakout stars.
But with principal photography completed in January 2022, the rough waters for the movie were just beginning to swirl.
What happened with 'Aquaman and the Lost Kingdom'?
According to a new story in The Hollywood Reporter, the movie started to face issues almost immediately. The initial test screenings for the movie indicated that audiences weren't reacting well to the movie.
The studio authorized two rounds of reshoots, but it appears that nothing produced was helping the test scores. Incoming Warner Bros. bosses Michael De Luca and Pamela Abdy got involved, and Abdy led a new cut, but that tested even less successfully.
Yet with a lot invested in the movie, Warners kept moving on, authorizing an unprecedented third round of reshoots –– which reportedly went very well, Wan able to complete what was needed in less time than planned.
A big issue for the film's process were several delays, including work traffic jams at VFX companies requiring that 'The Lost Kingdom' jump around the schedules.
Not helping matters was a killer combo of changing fortunes for DC movies –– Hamada would be gone before the movie ever saw screens and DC Studios changed hands to James Gunn and Peter Safran.
But both were committed to helping Aquaman keep swimming; Safran in particular because he's a producer on the film.
And then, there's the Batman issue.
How does Batman fit in?
While the movie largely sees Momoa's Arthur Curry struggling with a new threat to his underwater kingdom (one that will force him to team up with half-brother and former rival Orm, played by Patrick Wilson), there was supposed to be a cameo from Batman.
But which Bruce Wayne? When 'The Flash' looked to be kickstarting a universe where Michael Keaton's Bruce is sort of a Nick Fury-style connective character between other heroes, a cameo for his Batman was filmed. When those plans changed, Ben Affleck's Wayne was subbed in (that reshoot was "accidentally" revealed by Momoa to a studio tour group).
And now? 'The Flash' is a flop and other Keaton-featuring projects such as 'Batgirl' have been shelved. Gunn and Safran are reportedly nervous about connecting the film to a movie universe that is effectively over or making promises about crossovers that may never come to pass now that Gunn has his own big plans for the future.
The mood is still positive around 'The Lost Kingdom', though, but we'll see how it performs when it lands in theaters on December 20th.
Other Movies Similar to 'Aquaman and the Lost Kingdom':
'Aquaman and the Lost Kingdom' is produced by Warner Bros. Pictures, Atomic Monster, The Safran Company, and DC Films. The movie is scheduled to release in theaters on December 20th, 2023.
Content Source: www.moviefone.com