Opening exclusively in theaters on July 21st is the new horror thriller 'Cobweb,' which was directed by Samuel Bodin, and produced by Seth Rogen ('Superbad') and Evan Goldberg ('This Is the End').
What is the plot of 'Cobweb'?
Eight-year-old Peter (Woody Norman) is plagued by a mysterious, constant tap, tap from inside his bedroom wall – a tapping that his parents insist is all in his imagination. As Peter's fear intensifies, he believes that his parents (Lizzy Caplan and Antony Starr) could be hiding a terrible, dangerous secret and questions their trust. And for a child, what could be more frightening than that?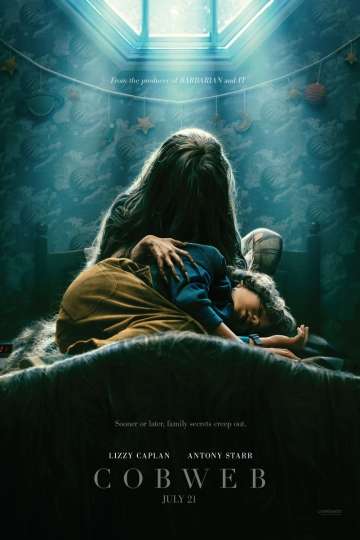 "Sooner or later, family secrets creep out."
1 hr 28 min
Jul 21st, 2023
Eight-year-old Peter is plagued by a mysterious, constant tap, tap from inside his bedroom wall – a tapping that his parents insist is all in his imagination…. Read the Plot
Who is in the cast of 'Cobweb'?
'Cobweb' stars recent Emmy-nominee Lizzy Caplan ('Fleishman Is in Trouble,' 'Now You See Me 2') as Carol, Woody Norman ('C'mon C'mon') as Peter, Cleopatra Coleman ('Infinity Pool') as Miss Devine, and Antony Starr ('Guy Ritchie's The Covenant') as Mark.
ECinema News recently had the pleasure of speaking with Lizzy Caplan about her work on 'Cobweb,' the screenplay, her character, working with Woody Norman and Antony Starr, her love for the genre, collaborating with director Samuel Bodin, and taking on her iconic role in Paramount+'s 'Fatal Attraction.'
ECinema News: To begin with, what was your first reaction to the screenplay and did the horror elements jump off the page or did you have to find those moments on set?
Lizzy Caplan: I think the sad truth about making horror films is that there's really nothing scary about it when your boots on the grounds making it so you see all the spit and scotch tape. So that's one thing that I suppose you sacrifice by being in it, is that it probably won't be scary to anybody actually involved in the making of the thing. But when I read the script, I thought there was a lot of opportunity to take this to a very odd and weird place, and that was exciting to me. Honestly, the biggest draw was getting to work with Sam, our director, because I was a huge fan of his Netflix show, 'Marianne,' which I thought was so scary and so visually unsettling. I was just itching to work with him.
MF: What was your experience like working with director Samuel Bodin and collaborating together on set?
LC: He's the loveliest. I adore Sam. It was a very unique set in that we shot it in Bulgaria at the height of COVID with a full Bulgarian crew, and Sam is French, so there were many languages being spoken and we somehow managed to make the movie altogether, which I think is one of the most fun ways to do it because you have to rely on different ways to communicate. But they were a great crew and Bulgaria was great.
MF: How would you describe Carol in your own words and what was your approach to playing the character?
LC: I only know what we were doing on set, which got progressively more unhinged with each take. Antony and I were competing for who could make it weirder, and I really hope that some of that strangeness made it into the final cut because that was the most joyful part of making the thing for me. But the parents are the villains until, I guess, maybe there's more to the story by the end of the film, but it was really exciting to play somebody who you're not really sure what side she's on, and if you should be rooting for these parents in any way whatsoever. I like that. I appreciate that gray area.
MF: What was it like working with actor Antony Starr on Carol and Mark's relationship?
LC: Yes, I think that he was a great partner for this project. I think he's a spectacular actor and really can go to very dark places while also feeling an underlying mischievous grin beneath it all, and I found that totally fun to work opposite.
MF: Can you talk about Carole and Peter's over-protective mother and son relationship?
LC: Yes, she's a very protective mother. That's a nice way to put it. I do think that her intentions are good and come from a protective and loving place, but they're clearly a bit misguided. I always think I'm drawn to characters that seem difficult to like and difficult to get behind, and I try to figure out how to make the decisions that they are making feel like the only decisions that character could make, and hopefully while doing that, garner some empathy from the audience. Again, I do believe Carol was just doing the best she could like all mothers. Well, maybe not like all mothers.
MF: Can you talk about working with Woody Norman, and did you have to take any extra precautions working on the violent scenes with such a young actor?
LC: It was really fun to chase that kid around with a knife, I will say. Woody is very talented and he's got an incredible face. He's this very special young talent, and he's got a very cool mom, which doesn't always happen with young actors, so that probably helps. But yeah, he was fine and he was mature beyond his years. He knows more about music and literature than a lot of people I've spoken to who are my age, so I wasn't too worried about scaring him. I remember after chasing him around a few times, we would always have a laugh after we cut just to make sure he knew I wasn't actually trying to stab him.
MF: Is it fun making a horror movie and what do you like about the genre?
LC: Yeah, it is. It's really fun. I would definitely love to make more horror films. I'm a big fan of them, and it was a blast. There's a few different sub-genres within the horror umbrella, and they're the ones that are trying to say something, that are sneaking a message about the culture and society into a story that's maybe more easily digestible to the masses. So you can introduce really interesting ideas like abuse or addiction, and there are countless examples of those types of horror movies. Then there are just the really fun ones, the popcorn ones that are there for the jump scares, and I think people are drawn to horror movies because we like feeling scared when we know it's safe to feel scared. As scary as a movie can be, you know that you're just watching a film and it's not actually happening, and I think people are really drawn to that. We're excited by those feelings of fear, especially if we know that it's not totally real. It's like roller coasters and horror movies, people love that stuff. So I that we weaved in some subtext about abuse and just familial trauma.
MF: Finally, what was it like for you as an actress to take on Glenn Close's iconic role of Alex Forrest for Paramount+'s 'Fatal Attraction' series.
LC: I mean, it was both daunting and very fulfilling and it was the second half of a very strange year where I did 'Fleishman Is in Trouble' in the first half and then moved directly into doing 'Fatal Attraction,' and I really wanted that challenge to see if I could do two completely different characters that close to each other. I don't know if I would necessarily want to do it like that again, but the notion that I got to scratch multiple creative itches over the course of one 12 month period is something that I feel very grateful for.
This interview was accomplished prior to the start of the SAG-AFTRA strike.
Other Movies Similar to 'Cobweb':
'Cobweb' is produced by Point Grey Pictures, Vertigo Entertainment, and Lionsgate. The movie is scheduled to release in theaters on July 21st, 2023.
Content Source: www.moviefone.com