Opening in theaters on August 2nd is the new computer-animated superhero film 'Teenage Mutant Ninja Turtles: Mutant Mayhem,' which was written and produced by Seth Rogen and Evan Goldberg ('Superbad'), and directed by Jeff Rowe ('The Mitchells vs. the Machines').
What is the plot of 'Teenage Mutant Ninja Turtles: Mutant Mayhem'?
After years of being sheltered from the human world, the four Turtle brothers (Micah Abbey, Shamon Brown Jr., Nicolas Cantu, and Brady Noon) set out on a quest to be accepted as normal teenagers by the people of New York City through acts of heroism. With the aid of their new friend April O'Neil (Ayo Edebiri), the brothers go on a hunt for a mysterious crime syndicate, but trouble arises when an army of mutants is unleashed upon them.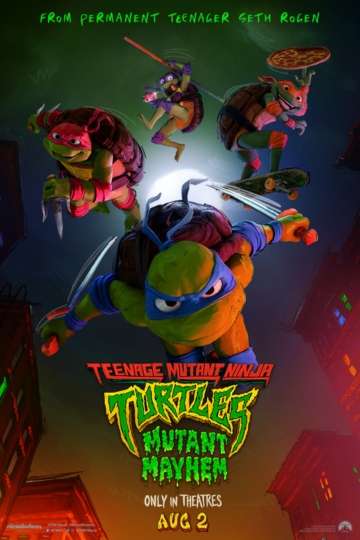 "A new generation of heroes will rise… straight from the sewers."
After years of being sheltered from the human world, the Turtle brothers set out to win the hearts of New Yorkers and be accepted as normal teenagers through heroic… Read the Plot
Who is in the cast of 'Teenage Mutant Ninja Turtles: Mutant Mayhem'?
ECinema News recently had the pleasure of speaking with actor and musician Ice Cube about his work in 'Teenage Mutant Ninja Turtles: Mutant Mayhem,' joining the popular franchise, his love for the Turtles, playing the villain Superfly, the recording process and bonding with his co-stars.
ECinema News: To begin with, were you a fan of the Teenage Mutant Ninja Turtles before joining this project and what does it mean to you to be a part of this franchise?
Ice Cube: Oh, yeah, a big fan. I've been checking them out since the '80s and I took my kids to the movies and dealt with the lunch pails, the bedspreads, the action figures and all that. Remember when Kevin Durant went to the Warriors and they was already champs? It's kind of like that. It's like joining a championship franchise and getting a chance to make a difference. So, it was a dream come true for any actor.
MF: How would you describe Superfly in your own words and was it challenging finding the character's voice?
IC: Superfly is the King of New York. Everything that's bad, you've got to run through him. You've got to check in, for sure. But he has a heart. He don't want to be an ugly Superfly. He wants friends. He wants acceptance. He just wants people to like him. He just wants to go to happy hour and eat his bowl of sugar and smoke a cigar, man. You know what I mean? It's one of those things where he's a guy you can understand, and if you don't give him that, he tears up New York.
MF: I understand for this film, the recording process was done differently than on other animated movies as you actually got to work with the other actors you were performing with. Can you talk about that process and what was that like for you?
IC: It seemed like all animation should be done this way. You get a different kind of performance when you're in the room with other actors who can match your timing, and you guys can kind of bounce off each other. It's why the film feels so real and natural, and it doesn't feel like the standard animation where you can tell somebody's in a pristine studio, and they're by themselves, and they're trying to make it sound like they're part of a group. This is the way to do it.
MF: Finally, did that process allow you to bond with the four actors playing the Turtles, and what was it like for you working with them?
IC: Very cool. All of them have great energy. All of them have great voices. When you think of animation, you think of people with amazing voices. How do you have a voice that's perfect for a cartoon, especially when they're young? I'm always amazed at these perfect voices that are chosen in animation, not just 'Ninja Turtles,' but most animation, they find the people with the most unique sounding voices that's usually perfect. So, I like listening to them talk.
Other Movies Similar to 'Teenage Mutant Ninja Turtles: Mutant Mayhem:'
Content Source: www.moviefone.com